Volunteer Pipeline Visual Assessment Program
Free WV Specific Webinar on Tuesday, 3/27, 7PM – 8:30PM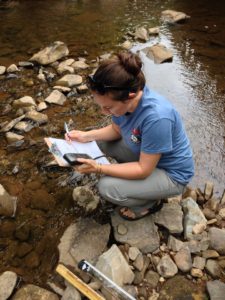 The Volunteer Pipeline Visual Assessment Program was developed by Trout Unlimited and West Virginia Rivers Coalition to support and train volunteer citizen observers to identify, document and report pollution incidents associated with large-scale pipeline development.
Through a series of free webinars, volunteers will learn about erosion control best management practices used in pipeline development, specific examples of pollution to look for, and how to best document those problems. After the webinar, volunteer observers will be able to report pollution incidents to TU and WV Rivers. To learn more, visit the program webpage.
To participate in the program, please register for one of our free webinar trainings.
Register for the webinar in the state you plan to monitor:
VA Specific Webinar: Tuesday, March 13th — 7:00pm-8:30pm. Register here.
WV Specific Webinar: Tuesday, March 27th — 7:00pm-8:30pm. Register here.
For more information, please contact Jake Lemon, TU's Eastern Angler Science Coordinator, at jlemon@tu.org.